Apart from the Scottish Championships, the Edinburgh International Senior Championships are the foremost senior championships in Scotland. Edinburgh curlers in general and C & B curlers in particular enjoyed a strong competition and four senior men (Brian Fleming, John Steven, Andrew Galloway and Dave Munro) made it all the way through to the men's final, John and Brian playing front end to Callum Harvey and Robin Aitken, while Andrew and Dave were in the team skipped by Basil Baird along with Jim Wylie.
Both teams did exceptionally well in their semi-finals. Basil won a very tight game against
the strong Don Stark
rink from Forfar while team Harvey had an even more spectacular win against former winners and Scottish senior champions, the Gordon Muirhead rink.
The final was somewhat one-sided, with Callum taking an early eight-shot lead after three ends. the Baird team decided that they had seen enough and shook hands!
Meanwhile in the ladies competition, Isobel Hannen played second in the Jackie Lockhart team with Christine Cannon and Margaret Richardson. They successfully defended their title against the evergreen Barbara Watt in a tight 5-3 game.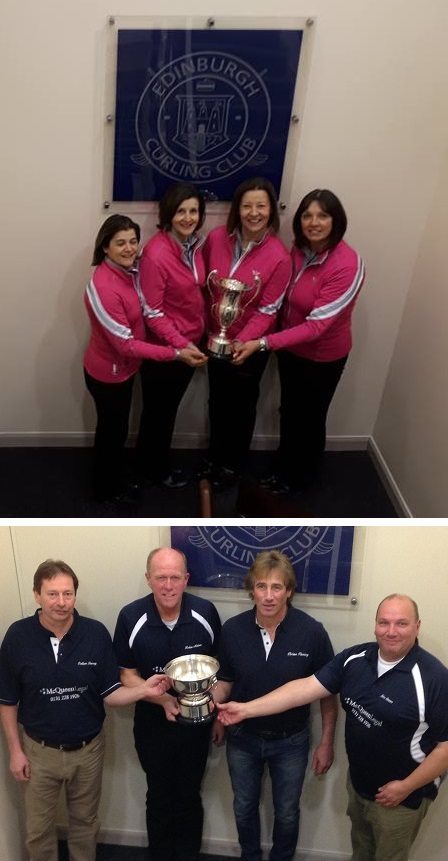 Ladies Championship winners (from left)
Jackie Lockhart, Christine Cannon, Isobel Hannen and Margaret Richardson
Men's Championship Winners (from left)
Callum Harvey, Robin Aitken, Brian Fleming and John Steven